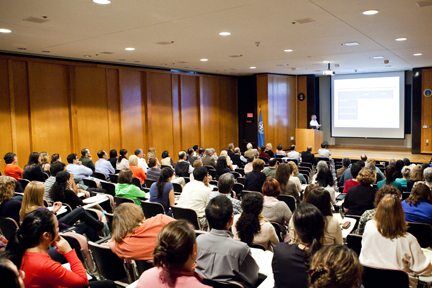 Corporate, Business, Franchise
and Organization Events
Extreme seminar formats are quickly changing the consciousness of corporate America. Many of the worlds most forward-thinking companies such as Microsoft, AT&T, American Express and Coca Cola regularly use Firewalk seminars to motivate and inspire their employee base as well as middle and upper management, thus creating a more productive work environment for all. Many of the world's leading CEO's have embraced the immense power of the Firewalk and strolled over the coal bed themselves.
With each one in a lifetime event you also get a seminar from 1 to 3 hours to make true meaning out of the extreme event. Your team will learn to think outside of the box, that fear is only a concept that is made from past beliefs, that they can truly accomplish things they never would have dreamed of doing. Dr. Steve Whiteside has been leading these events for many years and each seminar will have a goal to achieve and the once in a lifetime event at the end is there to show them what they have learned is true and to practice the ideas they have learned in the seminar.
"What the mind of man can conceive and believe, it can achieve."
— Napoleon Hill
Firewalking

Firewalking seminars will help improve focus and promote advanced critical thinking skill for your entire organization. The purpose of the Firewalk is to give you an unique and innovative seminar to create an environment that will push your team beyond their present limits and help them break though mental barriers that may be holding them back from their true potential. The Fire walk is truly a life changing event for each and every person who participates in them.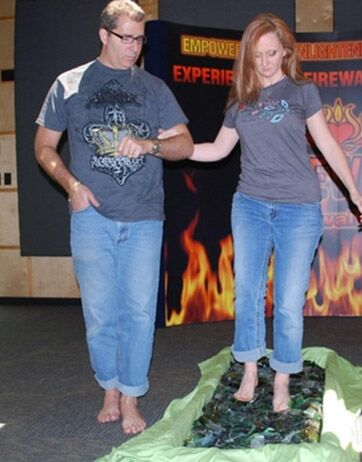 Glasswalking
Of all the metaphor activities that we offer in our intensive seminars, the glasswalk stands alone as an activity that is initially feared with more trepidation than the Firewalk itself. For those who have never experienced walking barefoot on broken glass, this activity requires total focus. Unlike the Firewalk that is briskly strolled across, the glass walk is done very slowly and deliberately. The lesson here is to pay 100% attention. The glass that one walks across is sharp and definitely has the ability to cut through human flesh.
Glasswalking has a similar effect as our Firewalk but can be accomplished in doors or in communities that do not allow fire. The Glass walk can be done on a rainy day and is always a game changer for the participants. Once a person walks across a runway of broken glass and feels the glass cracking under their they will remember it forever. This event is also a life changing experience and shows the participants that they can do anything they set their minds to.
Arrow Breaking
This seminar is extremely challenging. Not because of the difficulty, but because of the trust one must have and the focus one must depend on. The participant will put an arrow on a piece of paper against his throat and push the other end against the wall. If the focus is there and the concentration is 100% the arrow will break. This has extreme positive effects on the participants and clients who have done this even years ago, many still have their broken arrow on display somewhere at home or work.
The idea with the Arrow Break, is to push the limits of what one thinks is possible. The visualization of doing so with an arrow against the throat manifests a lot of excitement and creates mental change.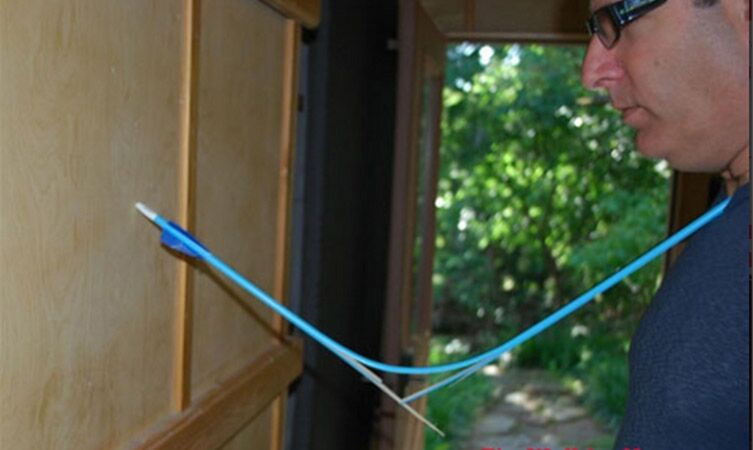 Board or Brick Breaking
What happens when we commit less than 100%? Many people live life in such a state and then wonder why they lost the promotion they thought they earned or why they are stuck in the Ruts of Life. Whether team members choose the one-inch thick board or the two-inch thick brick, the lesson of 100% commitment becomes immediately apparent. The board or brick break is feasible regardless of physical strength or martial arts experience, but requires 100% commitment and follow through. This is the mentality of success.
Rebar Bending (Teamwork)
This is a great event for team building or even creating trust between the two participants that will bend the rebar together. Two participants will put a 8 foot piece of rebar to their throat (with some protection on their skin) and move towards each other to bent the rebar so that the participants are touching.
This is a powerful and meaningful seminar which will show the importance of two participants needing to work together. Each participant can not give more or less then 50% of the power to make this work. It is a balancing act and as you watch and listen to the participants you will see the learning that happens immediately.
Trust Fall
A true trusting experience happens every time as you fall backwards into the crossed arms of your co workers or friends. The Trust Fall relies on the strengths of many to support the smallest or largest person. A straight backwards fall without hesitation is the true mark of trust. This is a wonderful team building experience and takes a lot of concentration. The learning is intense and the fun is wonderful.
Local Team Building events In BC

Floating Islands
The Floating Islands uses deductive reasoning to calculate and construct a bridge with just two boards to help the team get from platform number one to platform number three. All it takes is balance and teamwork … and did we mention strategy? If only one person makes it to the end then the task is not complete. The entire team really needs to pull together on this one to make the end goal possible, as if only one team member makes it to the end, then the task is not complete.
All Aboard
Group members must devise a way to share space on a series of low, nested platforms, ranging in size from nine square feet to one square foot. Everyone's feet must be off the ground and on the platform. The group must hold this position for a prescribed period of time.
Other Seminars
Everything DiSC®

Emotional Intelligence

Strategic Planning

Communication

Conflict Resolution

Leadership

Call for more…
How can I help you?
Contact me today!
I would Love to hear something from your side.